25
Nov
Regardless of the fact whether you are running a full-blown enterprise or small emerging business within a locality, the power of tradeshows cannot simply be denied. Over the years expos and tradeshows have come to be viewed as one of the best investments that you can have your finances pulled into as the returns are simply outstanding, to say the least.
Not only is there a lot of exposure for you to cash in on the returns that just keep on coming but there are benefits to reap for both the short and the long run. For a quick walkthrough regarding just how fantastic tradeshows can be here are some quick facts:
For creating awareness tradeshows are viewed by 88% of all companies and brands as the biggest platform available during present times.
The cost of having a face to face meeting with a prospect is as low as $142 in a tradeshow as compared to meeting the same prospect in an office at $259.
In tradeshows, around 92% of attendees are there to see and learn about new offers.
Exhibitions are rated by 87% of all participants as highly successful in achieving business goals.
In the US alone tradeshows are still the most profitable B2B media strategy, generating up to $12.8 billion in revenues in 2016.
Now that we have established what tradeshows have to offer, let us now focus our attention on what a tradeshow booth can do for you. So without any further a due, let's take a quick look at what a running a stall at an expo truly means:
There Are Options for You to Choose From
Now a lot of you may be concerned over the fact that just how much return on investment a booth can offer you and just how costly it can be, however, you need to first realize the various options that you can have. That is why before we venture into how much trade show booth ROI can actually mean, here are some of the popular types that you can have listed down for you next expo:
Inline: also known as a linear booth and they are generally arranged in a straight line with only one side exposed to an aisle.
Island: probably the most popular type in recent times, your booth is exposed from all the sides and this means your traffic exposure is maximized.
Peninsula: similar to an island type, only three sides are exposed while there are further options for you to play with such as a combination of a linear booth or another peninsula that could make it a split island booth.
Premiere: these are very close to inline booths and the location of the booth is specifically the perimeter of the exhibit hall walls.
Keep Your Investments and Money Rolling
Now for more important stuff for decision-makers, the money and how the investment pays you. In all honesty, a trade show booth can help you generate a lot of money. According to the study conducted by Oxford Economics, around $82 million at the very least can be made from just B2B sales.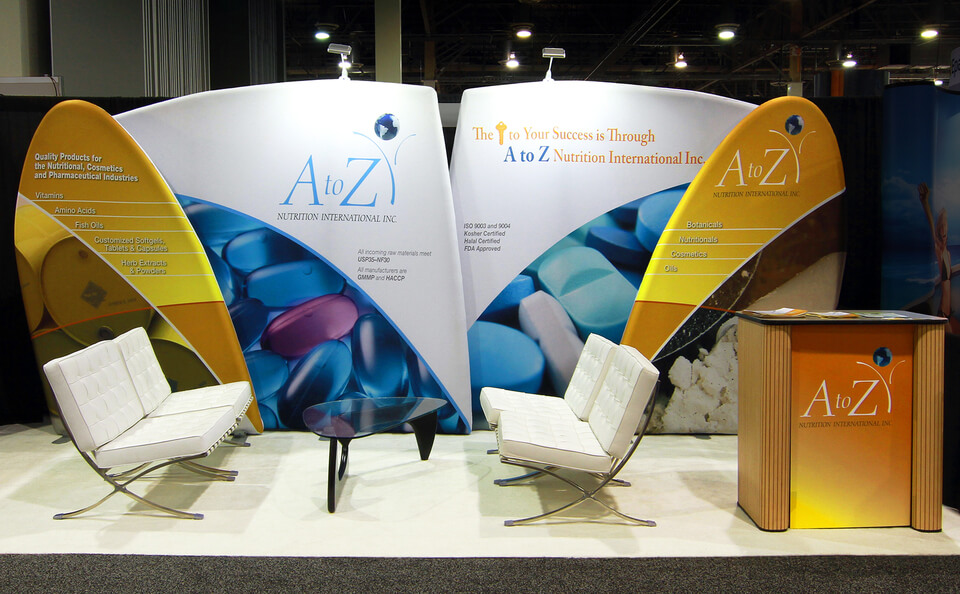 Furthermore, booths also enable you to get a lot of face time which in return improves your chances of getting rewarding leads and according to another study those leads can be worth more than hours of blogging. Hence there is no doubt about the fact that many brands, businesses, and companies look at trade show stalls as a worthy investment. It can help you close sales, expand your customer base, and in the meanwhile also get a lot of media attention.
Larger the shows the more coverage you get for instance the likes of CES are considered international breakthrough events that have transformed them into a prestigious affair. Apart from this, even an initial broadcast from a local media channel can boost your ability to reach out to prospects.
Make Deals & Strengthen Your Network
The ability to make your target audience instantly aware of your offered amenities, products, and services is a great edge for you to overcome competition within itself. However the matter of fact regarding how things go in a tradeshow and how well they can play out for you literarily go beyond your booth. This is due to the fact that the expo itself generates a lot of buzzes which means a lot of big players in the market are making big moves to participate as well. This allows you to meet and greet all types of agents and players that can in return become your business partners in the future. You not only meet new players in the market but you can, in fact, forge long-lasting relationships with vendors and suppliers to name a few. All of this allows you to strengthen your business network further and beyond.
We hope this post was able to offer you a better understanding as to what a trade show booth can do for you. For more questions and queries regarding the topic, please feel free to let us know your feedback in the comment section below.