27
Nov
     160by2      |      Way2SMS      |      Globfone SMS Messenger      |      FooSMS
Text messaging or SMS became very common ever since cellular phones were invented. People of any age group, who owned a mobile phone used it for quick communication with their near and dear ones. However, as the internet started making a greater popularity among all living beings and around the world, communication has become even more effective and efficient.
That's right, folks! The internet today has given us new ways of establishing as well as maintaining constant communication with others, no matter where you are. Today, I believe that it would be rather difficult for most people to live without the internet – every minute and hour would seem unearthly.
A lot of people use the internet for various purposes. There is thus, an end number of uses that a common mobile phone user would normally do. Besides, sending free text messages to anybody in your country via the internet is also pretty much a cool thing and you should try it.
Common Reasons Why You May Require The Need For Free Online Text Messaging Service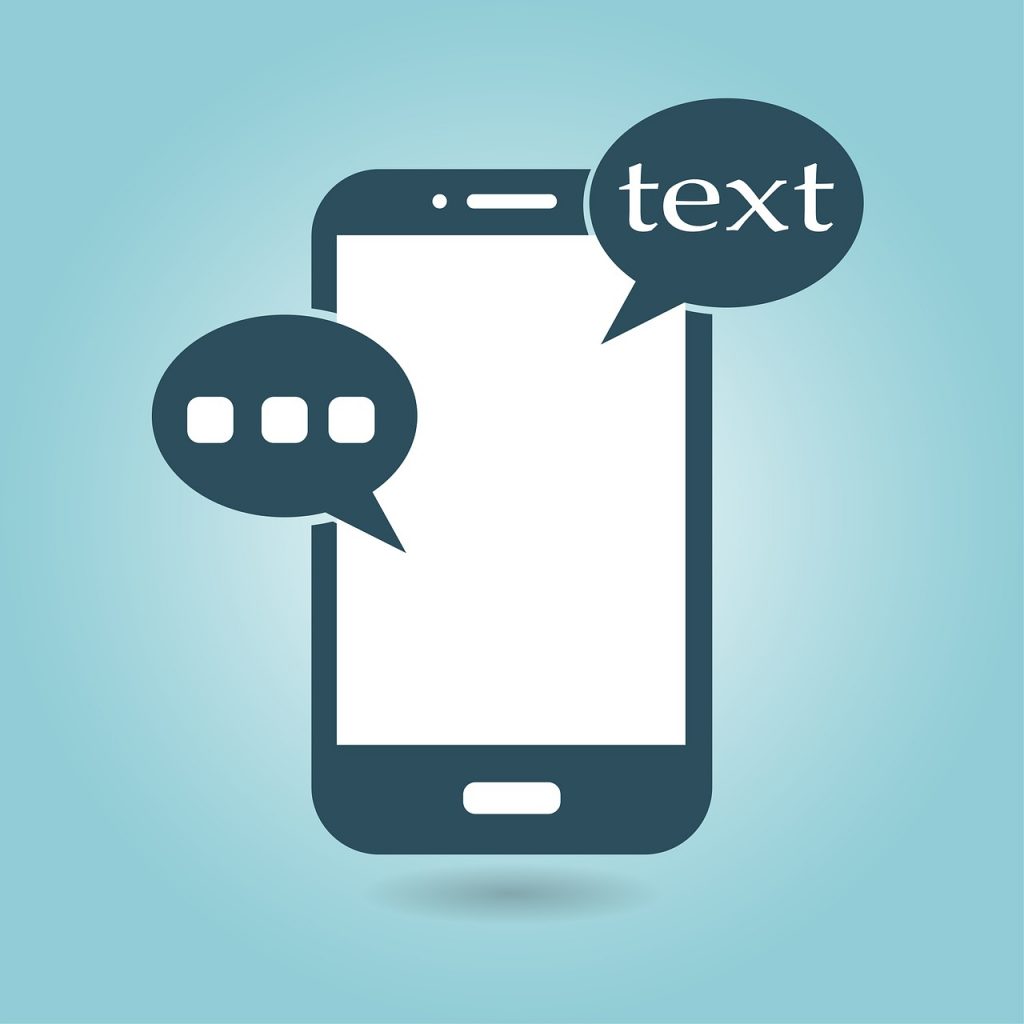 There may be quite a few, but sensible reasons as to why an online text messaging service can actually save your day, especially if you have an emergency and need an alternate way to reach out to somebody you want to get in touch with.
1. You've lost your phone and want to inform your family members, relatives, and friends.
2. You want to bypass standard message costs which are charged by your carrier/cellular service provider.
3. You want to communicate with someone while at work and you're not allowed to use your phone.
4. You're having bad cellular reception and not able to communicate from your phone.
5. You're using a pre-paid cellular service and just happened to run out of credit to make a call or send a message, which may be important.
Try These Free Text Messaging Services Without Spending Money
These websites let you send text messages to anybody in India without costing you a penny. So, if you haven't tried one of these online text messaging services yet, then it's time that you give it a run and have a whole new experience. Who knows, you might even find it handy at certain times when you need to reach someone urgently and you're out of options.
One of the fundamental advantages of using these internet text messaging services is that you can access their services from any device, such as a desktop computer, laptop, tablet, and smartphone. All you need is a web browser application and, of course, an active internet connection.
Let's take a look at some of these useful free text messaging services which you can try today and perhaps, make your digital life a bit more easy and efficient.
160by2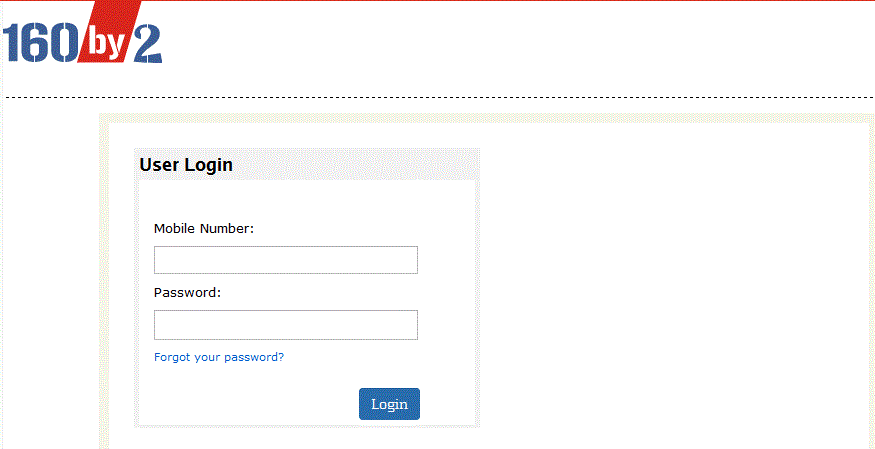 It is quite a popular web service in India that allows users to send text messages for free and over the internet. 160by2 takes only a couple of minutes registering with 160by2 and you will have your own free account to get started. It has a user-friendly interface that provides you with actions like Send SMS, Group SMS, Contacts, Sent SMS, SMS Collection, My Alerts and Invite.
You can access the Settings page to make any changes or update your personal information, or reset your password through an OTP verification process, which is very simple and quick.
Main Features:
1. Registration is required and is free
2. SMS character limit is up to 140
3. Allows adding contacts in the Address Book
4. Calendar for creating SMS alerts
5. Send text messages to individuals and groups
6. View sent messages
7. Delete messages from history
8. Add groups and send messages
9. SMS Collection lets you quickly choose messages from various categories and send to anyone
10. Invite others via referral links, social media, and e-mail
11. An app can be downloaded for the mobile platform
Way2SMS
Way2SMS is also another popular free SMS sending service in India. It is also used widely by home users and businesses for promoting products and services to a large number of consumers across India. Its settings page lets you change and update basic information such as name, phone number, password, e-mail, date of birth (optional), Profession (optional) and city (optional).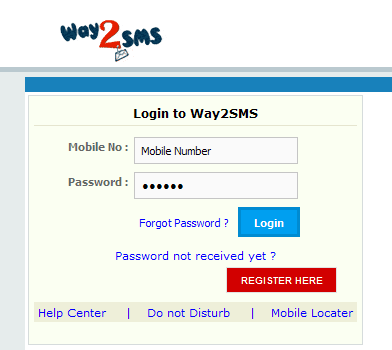 Main Features:
1. Registration is required and is free
2. SMS character limit is up to 140 for individual and group messages
3. Allows adding contacts in the Address Book
4. Allows downloading of contacts from Address Book
5. Send text messages to individuals and groups
6. Can send bulk messages
7. View sent messages
8. View and manage the history of sent messages
9. Schedule messages to be sent later
10. Besides English, it allows sending messages in 9 different languages: Hindi, Kannada, Malayalam, Marathi, Nepali, Punjabi, Tamil, Telugu and Urdu
11. Language SMS allows sending messages of 58 character-length
12. Wallet recharge and payment method includes PayTM, Online Banking, and Debit/Credit Cards
13. A mobile app is available for download
An important thing to note here is that as per TRAI regulations, Way2SMS does not allow sending text messages to DND numbers. Also, sending group messages between 9PM to 9AM is barred.
Globfone SMS Messenger
It lets you send text messages to anyone locally, nationally as well as to persons who are located outside your country.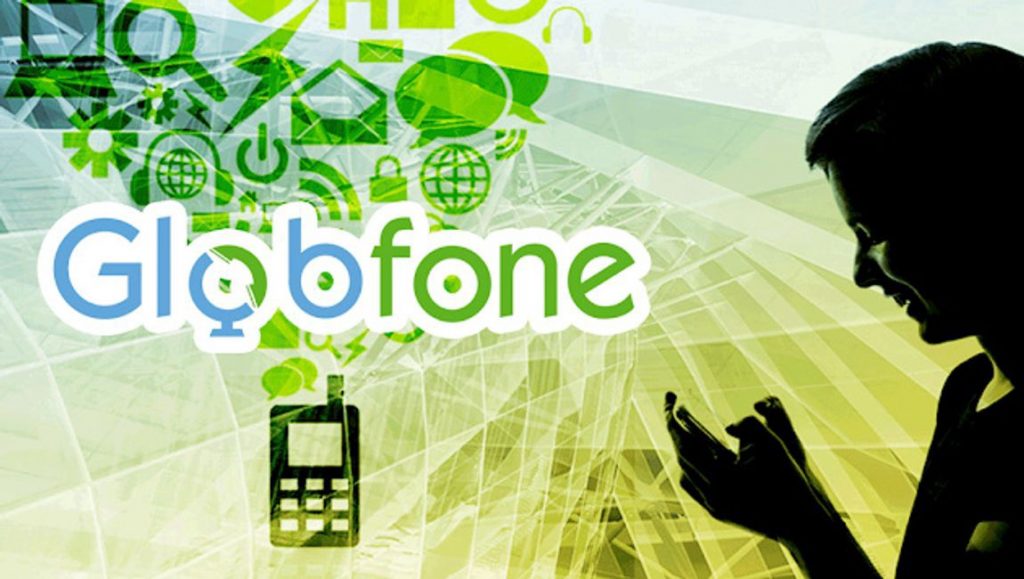 Main Features:
1. Registration or sign up is not required
2. Works with all major and updated web browsers
3. Send text messages for free to anyone around the world
4. Make local, national and international phone calls for free
5. Internet calling is free of charge
6. Covers GSM networks internationally
7. Start online P2P video chats
8. Direct file sharing with peers, friends, family etc.
9. Can also be used as an IM (Instant Messenger) to chat with other Globfone members
10. Call My Phone lets you locate your lost phone
11. An app is available for download
FooSMS
FooSMS is yet another web service that lets you send free text messages to anybody across India. It offers users both free as well as paid membership accounts in order to send messages from any device, using their website.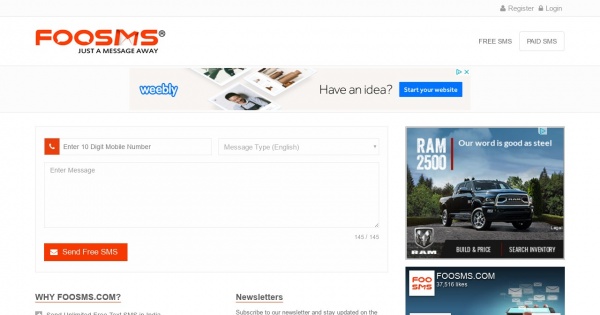 Main Features:
1. Registration is required to access its services and is free of charge
2. Lets you send free text messages across India
3. Character limit is up to 145
4. Supports all major mobile network carriers
5. Offers paid SMS service which does not contain ads
6. Allows sending messages in different languages
7. Language translation is simple
8. Automatic deactivation of account if not used for a period of 3 months
9. An app is available to download for the mobile platform
Conclusion
There are over a dozen free SMS sending services which are available for you to download and try. However, the ones mentioned here are picked because of their popularity, user base, and reputation.