18
Sep
Mainly the SEO(search engine optimization) practice adopted by marketers can be classified into three types i.e Black Hat SEO, White Hat SEO, and Gray Hat SEO.
Before we move in about types of SEO's we must consider what SEO is all about and how it is useful for us.
What is SEO all about? And how it is useful for us?
In simple words, SEO is a process by which we can increase organic traffic to our website through organic search results. It is a set of rules to get a higher ranking in the search results.
SEO is the best way to increase quality by making it more user-friendly, fast responsive and easier to navigate. As it consists of a number of rules/guidelines, a number of stages and a set of control.
According to a well known SAAS company MOZ, "Search Engine Optimization is a free way to increase the quantity and quality of traffic to your website using organic search engine results which are according to the search engine policy/guidelines".
SEO is exceptionally useful because it helps in increasing our online presence and traffic which ultimately helps in better ranking of your website.
According to 'Hubspot' a well known inbound marketing company, "57% of B2B marketers stated that SEO helps in generating more leads than any other marketing initiative".
Just like every coin has two sides, SEO also has two side popularly known as types of SEO(popular). (i) Black Hat SEO (ii) White Hat SEO (iii) Gray Hat SEO
Black Hat SEO|White Hat SEO|Gray Hat SEO|
Let's find what each type of SEO means:
Black Hat SEO- A definition
In a nutshell-Black hat SEO refers to a set of practices to increase a site rank or page rank by using such methods that violate the terms and policies of the search engine.
As in western movies term, black hat is used to distinguish 'bad boys' from the 'good boys' who wore white hats.
In the recent few years, hackers, virus creators and those who perform unethical action with computers uses this technique for illegal work.
What is black hat SEO?
Black Hat SEO is the most common illegitimate way to increase page ranking in the search engine result page(SERP). Using these ways is against the search engine guidelines as it may also lead to banning of your website from search engine and affiliate sites.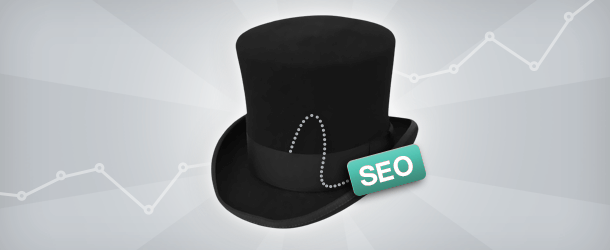 There is a huge list of tactics and strategies employed by black hat SEO practitioners denounced on Google Webmaster Guidelines and Bing Webmaster Guidelines.
In other words, black hat SEO takes white hat SEO strategies and magnifies them to a more dangerous level, it is simply an unhealthy exaggeration of a white hat SEO strategy.
How to check whether the work done by me is adding values to the user or want to deceive the search engine results?
This is the litmus test for any SEO practitioner that the work done by him is fair or only wants more traffic. As if, you are not adding values then also your ranking is likely to increase then your decisions are likely to be black hat.
Renowned black hat tactics
Content automation
Content automation is a black hat strategy that focuses on the automation of the content which does not require any human intervention in the creation of content writing.
Doorway pages/sites
Doorway pages/sites are created to rank higher search queries. These pages /sites are bad for the user as each search result ends up taking the user at the same destination. It can also lead users to intermediate pages that are not useful to the user as the final destination.
Hidden text or links
Hidden text is the words that are the same colour as the background or the page rendering invisible to the user. But these hidden links are visible to the search engine spiders and bots.
Keyword stuffing-
This is a technique when single keywords are loaded into a web page meta tags repeatedly to gain an unfair rank advantage in the search engines then it is known as keyword stuffing. Many websites being banned or penalized for temporarily or for a permanent basis because of using this unfair technique
Creating pages, domains, and subdomains with duplicate content-
This technique is mainly used by spammers to rank higher for different keywords using several domains which will be impossible by a single domains.
Link schemes
Just because google rank those websites which are having more number of backlinks attach to it. People start paying to other website owners for attaching their website in their blog which is a violation of Google policy. Buying and selling links is a type of black hat SEO technique. Exchanging links between two mutually agreed websites is also a type of black hat technique.
Article spinning
Converting a single article multiple times in different languages using a software(language translator) then this process is known as article spinning. And after converting a single article in different languages again that article is converted into the desired language, so the final article looks different from the original one this is known as article spinning.
Automated queries to Google
Using an automated tool to generate queries to the search engine to analyze the ranking factor for various keywords is against google webmaster guidelines.
Pages/sites with malicious behaviour that has installed malware
Any webpage found phishing behaviour (spying credentials) of the user are immediately banned by Google.
Cloaking
It is a black hat technique in which the content presented to the search engine spider is something different than what is presented to the user's browsers. This is done by delivering the content-based on IP addresses.
These are certain types of black hat techniques that are more popular among SEO practitioners. All these must be known by all businessmen, SEO practitioners, and those who want their digital presence in the market.
Why should we avoid black hat SEO?
Using of Black hat technique may lead to banning of your website from Google and other search engines. Using black hat techniques may give short time success. This success is till the time until you are not caught in the eyes of Google.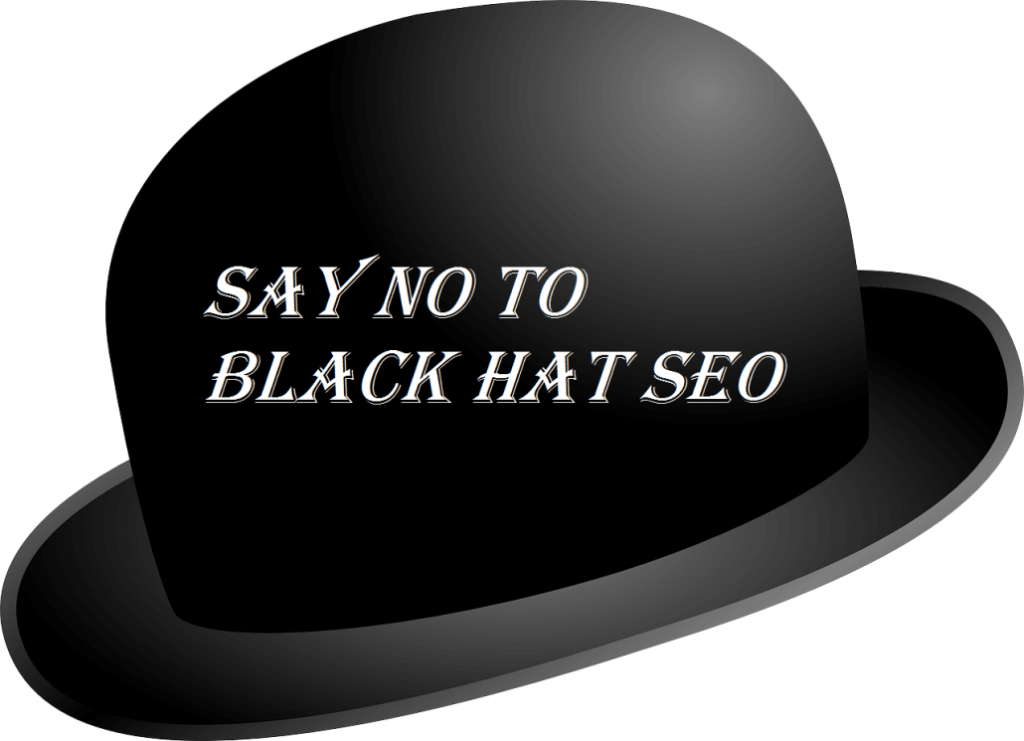 As and when you are caught you will surely be penalized by Google for using these types of black hat techniques. Your site may be banned by Google and also from the remaining search engines.
With a heavy amount of daily searches, nearly hundred of millions of people are searching can you really afford to be de-indexed?
Are black hat SEO technique for you?
It is purely dependent on the tenure of your business model. If you are having short term business then it is fine up to certain limits.
But it is also not important that it may have its success because daily Google is updating its algorithm and it is a really hard time to escape from Google's eyes. But in my opinion, you should go for alternative means of improving your search engine ranking.
White hat SEO-A definition
In a nutshell- White Hat SEO is a set of practices to increase a website or page rank which is according to the terms and policies of the search engine.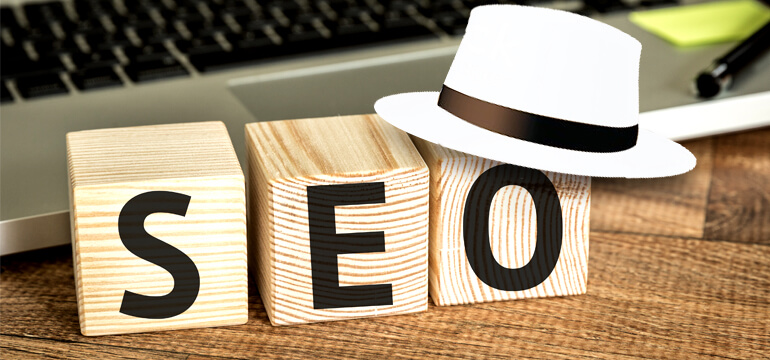 The origin of the term 'white hat' is from western movies to distinguish good boys from bad boys. It was getting its popularity from the very start of different google updates which were taken to maintain the relevancy from its policies and more.
In recent years it is more popular among businessman who wants their digital presence, SEO practitioners and those individuals who want to rank their websites on Google.
In other words, we can say that white hat techniques are those techniques in which you are not trying to trick, or outsmart the search engine's ranking or are according to the search engines guidelines and are helpful in improving the ranking of website many folds by giving values to the customers.
How to find that the work done by me is a white hat technique?
If the work is continuously adding value to the customer without using any unfair techniques like keyword stuffing, article spinning, cloaking etc then it is known as White hat technique. There are two types of doing SEO
Know the question arise that what is On-page SEO?
The optimal practice to a single web page to rank higher and earn more traffic is known as On-Page SEO. It refers to both the content and HTML source code that can be optimized, as opposed to off-page SEO which refers to links and other external signals."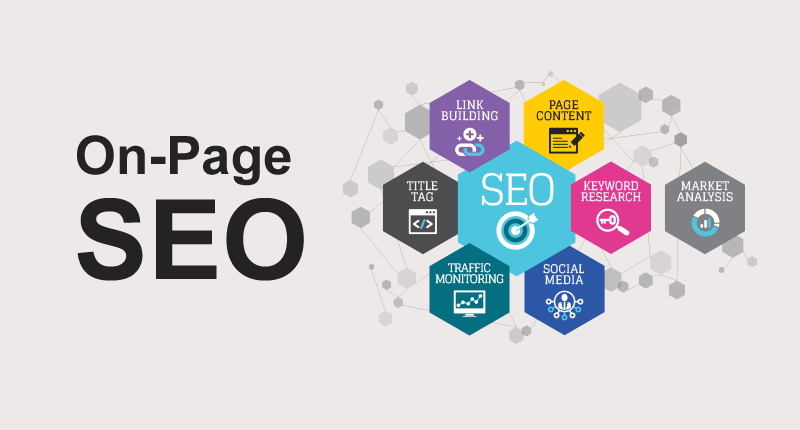 If you are able to understand the need of the visitors to your website then it will improve your user experience and it will lead to staying longer sessions on your website. If you are going to put more effort in these categories and strategies you will see a boost in your traffic and a rise in your search presence.
Here are some factors which have an effect on On-page SEO
Meta tags
These are the snippet of the tags that describe the content of the tags. They do not appear on the page itself but only in the page's source code as they tell the search engines about what a page is all about. The only difference between tags you can see and you can't is about its location as meta tags only exist in HTML which can only be seen by the search engine(or the people who know about HTML).
Meta tags help in SEO but not all of them, not all the time.
Title tags
There are multiple tags on your page. And the most important tag is the title tag that your users see in the search engine for organic results or paid ads at the top of the browsers.
The title tag outlines what the page is about when ranking for a particular web page, Google looks at the title and also compares it with the rest of the content on the pages. the HTML code for this title tag is-
<title>Everything You Need to Know About types of SEO</title>
However, SEO plugin named Yoast SEO creates a custom title within the platform. It keeps your title short and descriptive. Recently Google has increased the character limit to 70. The best practice is to keep your title stay below the character limit so titles to be displayed properly.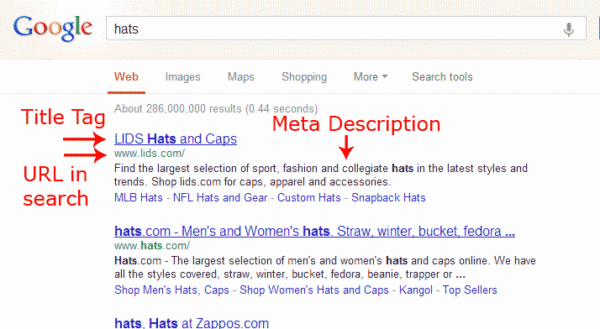 Meta description
These meta tags are useful meta tags as it explains to the search engine and search what the page is all about. Let us say we are googling something say an iPhone the description written under the meta title is known as meta description
Heading tags
The heading tags in HTML are the headings of the page. Headings are defined by<hn>, where "n" is the number between 1 to 6 which determines the hierarchy of the heading structure. Where h1 can be used single time and rest can be used as often as desired. These are important in on-page because they drive the point home quickly while establishing hierarchy.
Keyword targeted content
While you must maintain a user-friendly and authoritative tone, the focus of the keyword is the vital importance. As when you are writing any content it must be user-friendly as anyone can understand and read it. It must be of very simple language and must target the keyword. Targeting a keyword is more crucial as any visitor reaches our website only with the help of the targeted keyword only.
To get most of the targeted keyword you must use more specific keywords for which people are searching for there quarries for that purpose.
The content must not have only one focus keyword. Rather than that, your goal must be to rank for all synonyms and related queries.  Focusing on your focus keyword having 100000 searches but you can rank for the query having only 2000 searches only. Write content having many related queries that drive more traffic and more conversions.
Internal links and outbound links
Backlinks are an essential part of SEO as a website can have more traffic with the help of inbound and outbound links only. Inbound links are the links when someone links to your website and in outbound linking when you are linking to another website then it is known as an outbound link.
The inbound link serves as a great method of web navigation. In these days these links are used to enhance web traffic for achieving better ranking
Those websites which are having relevant content to the inbound linking website are of high quality.
Outbound linking is just the opposite of inbound linking as when we are giving a link on our website. The great thing with backlinks is that they are free of charge so you can get as much quality backlinks as you can.
Optimize your images
Images are the best source of conveying a message to someone and adding images to a blog or content benefits the user experience. And it also helps in SEO strategy by optimizing our website. Make your top targeted keyword the alt text and create a title that is unique and must be applicable to the image.
Optimizing the alt tags of the image helps google an indicator of what your page is all about. And the value of alt text is that when the image won't load what will the user see? The alt text. So don't try to fill your keyword rather than write what actually fits with image and make the picture more relevant. As images play a more relevant role in this visual world as they capture more attention, as well.
Mobile responsive
Mobile responsive means optimizing the website which can be easily accessible on mobile devices and can have a better experience on the same device.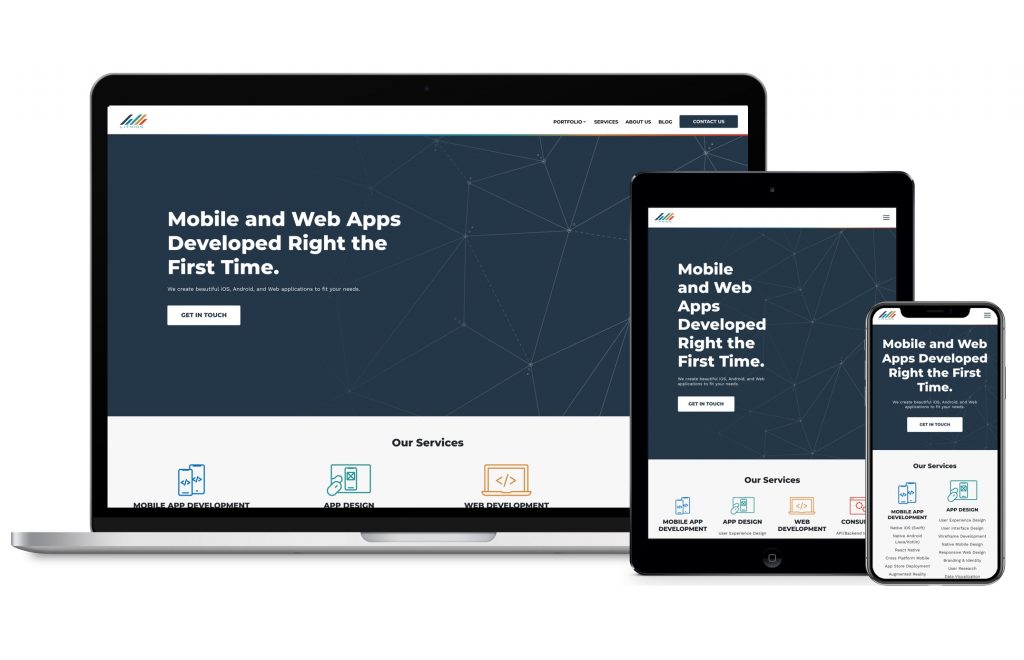 As nowadays it is important to have a mobile responsive website because every year more and the number of mobile users is increasing. And all are accessing websites from their mobile device so it is more important to have a mobile responsive website which can be easily openable from mobile.
Page speed
The actual time taken by a website to load a single webpage is known as page speed. Evaluation of page speed can be done with google page insights. Google has indicated site speed as the major ranking factor in its algorithm. As a slow page speed means that search engines can crawl fewer using their allocated budget which could negatively affect your indexation.
To speed up our ranking we can optimize our images and can convert in a suitable format which takes less time of loading i.e JPEG
Here are a few points of white hat SEO which helps in on-page optimization of a website which helps in boosting our traffic and ranking for the same.
Off-page SEO
Off-page, SEO is a technique that helps in improving website ranking without including a website in the process. And in this, we generate backlinks from relevant websites having similar content for the purpose of generating more traffic to our website. In this the more important are-
Link building
Social media marketing
Social bookmarking
Why is off-page SEO more important?
As the search engine is updating its policies and its algorithm and finding the best way to show the best results to its searchers.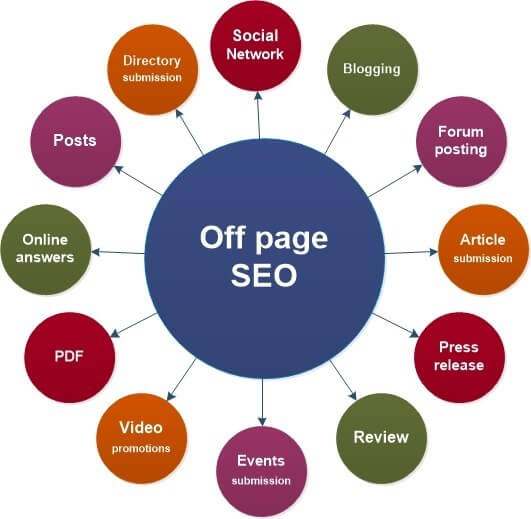 To achieve this, they take into account the on-site SEO factors that how worthy the content is, relevancy in keyword and content, what type of images are posted and many more, with thorough explanation above.
This google is also trying to have a view of social media that how other websites and users are responding to these websites.
What are the benefits of off-site SEO to a website owner?
A successful off-site SEO strategy will generate the following benefits to the website owners:
Increase in ranking- A successful off-page strategy helps in improving website ranking in the SERP page and it also helps in increasing website traffic.
Increase in the page rank- A page rank is a number between 0-10 which indicates the importance of a website in Google's eyes.
Page rank is only one out of 250 factors that Google is using to rank a website.
It leads to more exposure- Higher ranking leads to more exposure as when a website gets a top position: because of which it gets more links more visits and more social media mentions. It goes beyond the limit and each thing moves in a never-ending process.
Link building
This is the most effective and popular way of link building. Basically, this method is used to bypass your competitor and rank higher on the SERP page.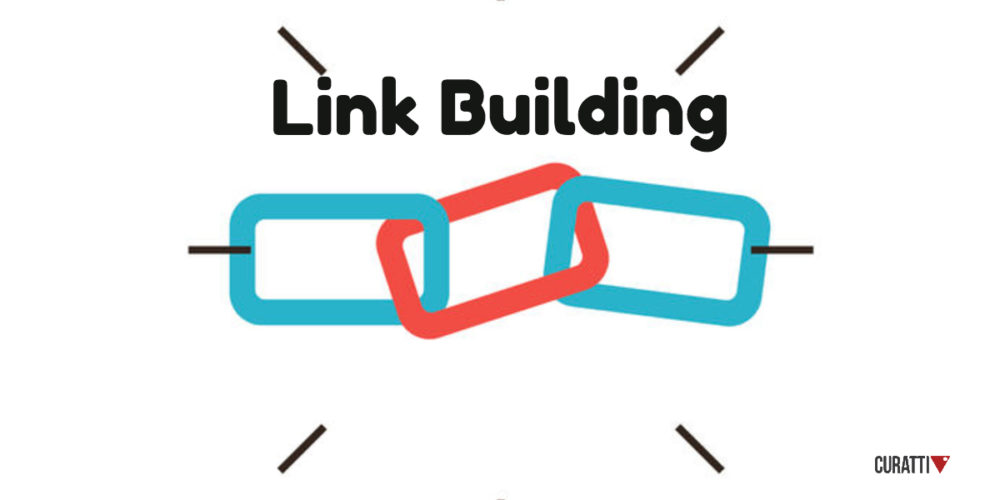 There are multiple ways to create backlinks developed by webmasters.
Blog directory submission
The first and the simplest way to create a backlink is by writing a blog and submitting in different blog directories.
Guest blogging
Guest blogging is still one of the best ways to generate quality backlinks. Google still finds more useful way for ranking purpose. To be more specific guest posting/blogging requires high-quality stuff. At least as good as the content is on your website. Not all guest bloggers are successful but if you take it seriously you will see the benefits.
Outreach and promote your best content everywhere
If you have written a good post but if no one is knowing about your content than it will create no sense. You have to find people who are really eager to link your content and share it on social media.
Broken link building
The lesser-known way is a broken link building technique. This involves finding an error on a blogger website and telling them about it. As it helps in solving problems they might reward your help by linking out to your website. Give them direct instruction which will be easy for them to identify and fix the mistake.
Building backlinks with infographics
In the recent past years, infographics have been one of the most popular link building methods. The demand for infographics are skyrocketing year by year. These are the best source linking building as they are highly shareable which leads to driving traffic from social media. Once if you have created infographics you can also submit it to some popular infographics directories.
Replicate your competitors best backlink
Replicating competitors backlink is one of the best ways of building new backlinks and improve SEO. You can get start it from your primary competitor the website that is ranking above you on your main keyword. You can use Ahrefs to spy your competitor's backlinks and then try to replicate the best ones.
Analyze your competitor's mentions
This is the most important of all as spying your competitor backlink and to know where their brand name is mention. And after that, we have to analyze that at what points we have to work on our website.
These are a few techniques of off-page SEO which are very helpful in creating backlinks which will boost your traffic and increase in sale or business.
Gray Hat SEO
After talking a lot about both black and white hat technique suggest which technique is best for us to boost traffic?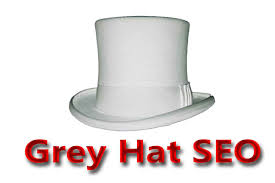 After having a deep view of both the techniques now we can say that were black hat is illegal but very speedy in ranking and white hat is legal but it takes more time and money both for ranking. Then what to chose? Hey! Don't be scared about the techniques which to use. As everyone wants their website to rank faster without being penalised by Google. "Grey hat SEO" is a topic of debate in search engine optimization. It is neither count in white hat nor in the black hat SEO. Till now Google is also struggling to find out the fact about grey hat SEO.
Firstly what is a grey hat technique?
When any technique is not under the guidelines of the search engine then that techniques are known as "Grey hat techniques".
Using these techniques which are technically a legal method but dubious and can become black hat or white hat in recent years.
Should we implement a grey hat SEO method?
You don't gain much from finding loopholes of google's bad side. As and when google finds it unsuitable you will be penalized by google.
So if you want any legit way to optimize your website then white Hat SEO is best for you. As day by day, Google algorithm are getting stricter and stricter all the time, your safest route as a business is going to be strictly white hat SEO.
Which SEO Technique Is Best For You?
After having a deep study of all the three techniques we are having a vast knowledge of all the techniques. As where black hat technique is very fast and speedy in ranking but this is not free from danger. As and when we are caught by google we will be penalized badly or our site may be pushed in sandbox.
And against this grey hat technique is fast in comparison to white hat and secure in comparison to black hat. But Gray hat may not last for a longer time as when Google update this technique to be black the site may vanish from SERP pages.
And according to me the safest and consistent technique which provides a good ranking is white hat. Where the white hat is legal and followed by many big companies. Google loves those website and companies who are trustworthy and use authentic content in an authentic way. So, I strongly suggest using white hat technique for more consistent and stable ranking.
Blog you may like-