4
Nov
Safety is our first priority!
Everyone wants to spend their vacation or some time for refreshment at that place which is safe and secure. And Airbnb is acting as an alternative for their accommodation rather than costly hotels and motels. But again the question arises that "is Airbnb safe? Or the accommodation provided by the host is safe from all types of dangers.
About Airbnb
Airbnb is an online marketplace which offers the service of remote lodging, homestays and tourism experiences. This company has no property rights over the listed real estate, nor it does any type of event the only thing the company does is that it acts as a broker and receives a commission from each booking.
As this company is doing a great job in the field of providing remote accommodation to those people who want a hassle-free place to live for their vacations and refreshment.
After all of this many types of complications and controversies can be listened to i.e complaints related to racism, because of Airbnb-rental pricing are becoming unaffordable, chances of theft, murder, invasion of privacy, rape and many more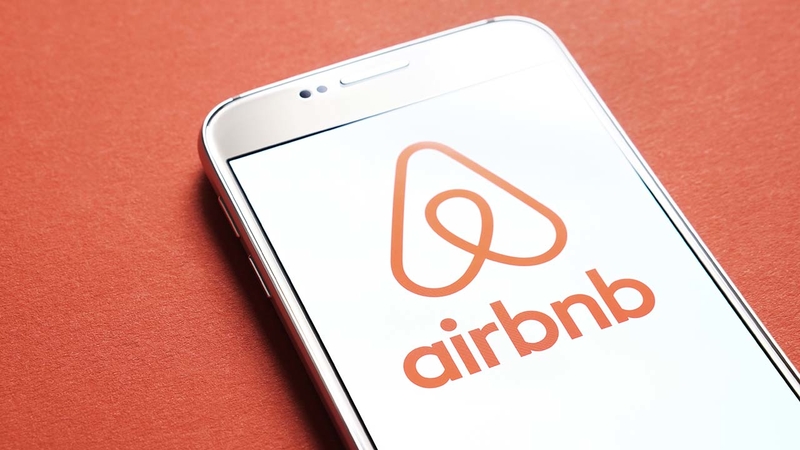 .
But this company opens immense possibilities for those who have a vacant place and also wants to rent it out to earn extra income. However the service has its fair share of its concern but then also both the traveller and the host are reluctant about sharing their living space with total strangers.
After reading this, read this exclusive article written for those who want to earn more after being a super host, this is also written for those who want to know the reality about what super host is…with a tile what is airbnb super host?  and if you find yourself in need, you can also call to its coustomer service.
Loopholes of Airbnb safety
The main and most important loophole about the Airbnb is that it does not require any verification from the host as anyone can be your host, Airbnb requires only email address and phone number for their verification. They don't even require real names and profile photos.
It only requires 10 minutes to become your host without any background check. The most interesting and dubious thing about Airbnb is that they are not even verifying physically the listing registered that even the listing is registered or not.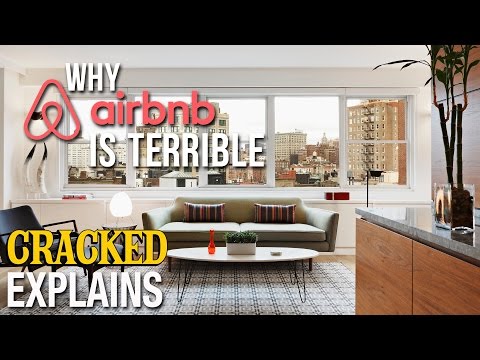 Whereas for the guest the priorities are a little bit different as the guest must have a government id as eminent identity proof for staying in host house.
There are certain more conditions which are not in favour of the guest as the guest can be backpacked as and when the host wants suitable without any prior notice/warning and without any valid reason. And in this type of situation, you can't even appeal for anything.
Here are the worst horror stories of Airbnb that gets placed in topnotch print media
After a deep and thorough research I have analyzed many top travel bloggers, 3rd party review sites, major news outlets and a deep research of Asherfergussion about the worst scenes of Airbnb.
The living guests are getting brutally sexually assaulted and even the situation may become worst for their kidnapping situation. This movement was covered by topnotch newspaper New york times. The headline of that day is "Airbnb Horror story points to need for precautions"
The another famous story is of Axel Bronson,26, who visited on an Airbnb for five-bedroom duplex while he was studying and found that these rooms were acting as a brothel and makes him to some sex-ed lessons, this was posted in the New york post with a headline that "My Airbnb rental turned out to be a secret brothel".
These two stories will explain to you the best reviews for Airbnb that what sexual possibilities can happen while ditching an Airbnb locality.
The worst of all is this when your privacy is under danger means someone surveillance your personal space or shooting with a hidden camera. A renowned news website Huffington post covers a scary story in which a couple found a hidden camera beside their bed, and the story was broadcasted by this website with a headline that "Couple uncovers hidden camera in nightmare Airbnb stay".
The host of these rooms are a paedophile in nature and bring the student closer by creating engagement which is belonging to their fields as one of them are seen in the UK simply by showing "Harry-potter cupboards for £10 a night" by metro news.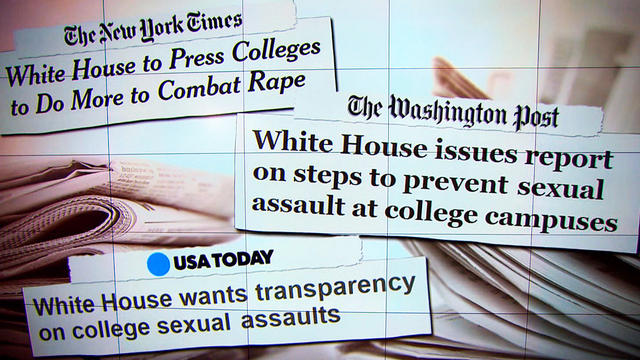 Airbnb safety reviews after this…
After these events, the Airbnb representative often gives a false belief that they are still reviewing what exactly happened and when we will drive to any point and finds the host guilty we will definitely ban this individual.
But the truth is something different as if a bad host is somehow permanently banned they simply move on to a new account to create and relist the dwelling.
Here beneath is an infographic which made you clear about the horror stories which are prevailing in the market about the Airbnb hosts and what all discomfort is made by them to their host.
Airbnb horror stories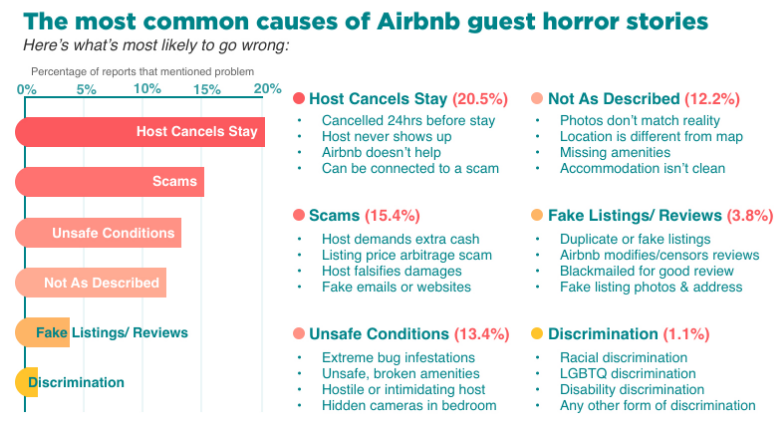 Above is a description of the common causes of Airbnb horror stories which can create a hustle for you in your refreshment vacation and in all of these host generally cancels the stay before 24hrs. This may be a serious concern for those who are not able to adjust their dwelling at the time as the stay was cancelled if they are having any newborn or an infant or the woman is still pregnant.
Scams are the second most discomfort that customers are facing while they are taking the services of Airbnb. In this, the host may demand extra cash or may falsify the listing price and may ask for the damages which are not made by the guest.
Unsafe or unfriendly condition is in the third position then also the most important as it is directly related to human major causes may be-
As the area is very much polluted and many types of pests are surviving there.
The amenities may be broken and the host may be hostile in nature.
Your privacy too may be at risk when there is previously installed cameras in the bedroom and bathroom.
And the remaining things are of great concern like fake listing/reviews and bad representation of the room but are less important than all the three explained above.
Customer service- A benchmark for Airbnb safety
Customer service is the backbone which provides a hard and fast relief to those who are in need but then also Airbnb is not doing good in this field. As if any customer finds any difficulty in their check-in or check out process call it for their help they continuously mention that customer service is too a problem.
Above infographic is authentic and must be believed as this research was made by a well-known travel expert Asher Fergusson. He was interviewed by a well known CBC marketplace newsmagazine television program for the reviews on Airbnb.
And he too found many types of difficulties while using the service of Airbnb. Here I had mentioned many types of safety measures which must be reviewed by the host before letting out his house to someone and by the guest before acquiring the dwelling.
Safety measures for the host
Firstly they must check with their local government that it is legal to rent out their accommodation according to Airbnb rules or regulations.
And after crossing the legal hurdle host must ask for a government verified ID from travellers before granting accommodation to the traveller. According to Airbnb verified ID means driving license or passport connected with  Airbnb account to facebook, google or LinkedIn profile with a phone number and email address.
The hosts are covered up to $1 million for any types of damages or injury made by the traveller while staying in the home. Airbnb too has attempted to address these issues with its Host protection policies.
Safety measures for the traveller/guest
While Airbnb has no policies or rules that replicate the traveller insurance rather than that it has some provisions for safety and satisfaction. However, it provides certain guidelines to book only those host providers accommodation providers which are highly recommended and have more positive reviews. Once the lodging was booked Airbnb provides 24*7 customer service to resolve any dispute and for providing refunds if any of these situations may arise-
The host cancels the reservation before check-in or fails to provide the listing booked.
The listing booked is misrepresented or lacks promised amenities or items.
Accommodation booked is not clean as described in the listing.
2nd and 3rd point is further elaborated below and these are also described in Airbnb refund policy
The listing location was not the same as it was booked.
The number of bedrooms and bathrooms are not the same as it was listed when booked.
Not having clean bedding and the same number of towels as stated in the listing.
Accommodation is unsafe, unsanitary and hazardous to the health of guests.
Undisclosed animal prior to booking.
Section 2| My answer to the question- Is Airbnb safe?

To be at the point and be more specific, after doing thorough research from different news websites and from different bloggers, travel expert, review websites and many more.
I found a single answer that it is not that much secure to get more dependent on Airbnb. The reason behind saying this is that the customer services are not much supportive in nature as and when you are in need they are not going to give you that support, mind it.
Few reasons why Airbnb is not safe-
Anyone can become your host with an email and phone number whether he was convicted as a felon, sex offender, thief or a scammer.
Reviews and written description does not match the reality as the reviews are generally biased and written descriptions and pictures are not trustworthy as they do not match the reality either.
Listings are not verified and even if any host gets permanently banned they can get back simply by creating a new account immediately.
No one checks the standard of dwelling and if you deem that your accommodation is not according to the quality standard you are left alone to fend for yourself.
Fake listings and websites are creating a hurdle for you and too for Airbnb website as they are harassing it and scamming you.
Many unsuitable things are happening it may be racism and widely used hidden cameras which is a great fault of Airbnb service.
Additional safety tips which must be done before registering for a dwelling if not able to judge is Airbnb safe or not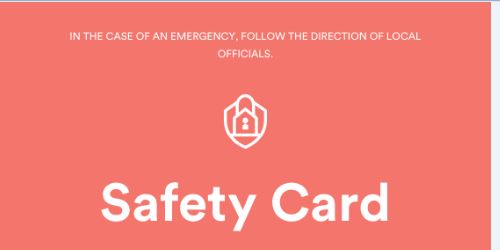 Reviews
Reviews are the most important criteria to actually know the exact position in the customer's mind. And while reviewing the Airbnb reviews you must have these points in your mind-
Not to book the place having zero reviews and must have more number of 5-star reviews.
Prefer only those hostings in a busy area having more than 50 reviews and less populated area prefer for 25 reviews and must be checked that are they real respondent, not friends and family member of the host.
Carefully read all the reviews, especially the negative one and see for anything unusual in it.
How to select Airbnb super host?
Host is something more important for the consideration while opting for Airbnb, as host is the person with whom you have to adjust while you are choosing for Airbnb.
The major difficulties that you are facing with Airbnb is the behaviour of the host as they may be very rude and can become a problem to many causes which are:
As host may cancel check-in period before 24hrs and Airbnb provides no help.
Host may cancel the stay this is often a scam where the host has multiple listings at different prices and cancels the lower price.
Points to be considered while selecting a super host
Stay with those hosts who are having a verified government ID as this will provide an assistance that with whom you are recognizable by the government and can be caught in odd situations.
Don't stay with the super host having more than one or two dwellings as the reason behind this is that if the host is having multiple dwelling then this is their main business and it takes the personal home feeling out of your stay. As research shows that service quality declines when a single host is having multiple accommodations.
Have a host phone number before arrival as it may help you in reaching their exact location. And if you are a single woman its a matter of serious concern to have a phone number to check whether a host is a female or male, and must opt for a female super host.
As Airbnb has countless bad cases of discriminations so before selecting a host you must check reviews that are not having any type of discrimination reviews.
Conclusion
After having a great discussion on this that "Is Airbnb safe" we have found different stories which are telling different stories on each point. Because of which my recommendation for this is a little bit different as Airbnb is a great concept for both the guest and the host to interact, new people, and a great way for refreshment.
But as this company is getting multinational day by day it is becoming a paradise for scammers as day by day new and multiple cases are coming and are hitting the headlines. Even super host are too indulge in these activities.
So I recommend you not to use it if you are overwhelmed by any of this problem.